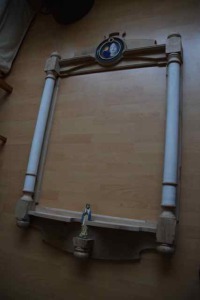 Afther a few weeks of disastrous events, the dead of my dad, a computercrash, spending a lot of money on a new Mac, iPad. and more, I pick up my steps and return into my studio and woodworkshop to finish the monumental frame for the painting 'Rutteli's flying circus'.
Na een paar weken vol rampzalige gebeurtenissen, de dood van mijn vader, een computercrash, de aankoop van een nieuwe Mac en een iPad, en meer noodzakelijke investeringen, heb ik de draad weer opgepakt en ben ik teruggekeerd naar mijn atelier en houtwerkplaats om de monumentale lijst voor het schilderij 'Rutteli's flying circus' te voltooien.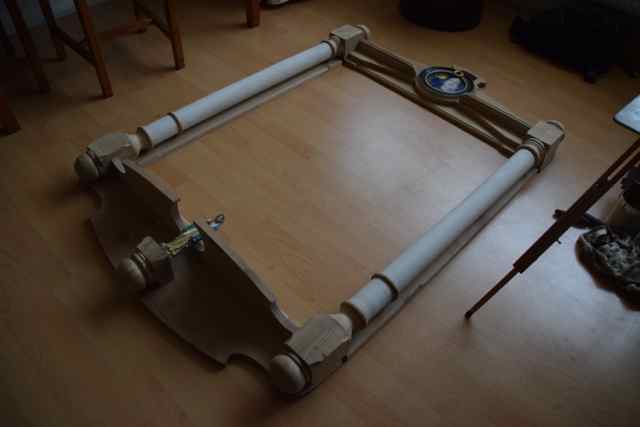 Everything is still in progress. All parts for the monumental frame, the small statue of Maria, and the underpainting are there. Everything fit very well and I'm proud, but still far away from finishing.
Alles is nog in staat van ontwikkeling. Alle onderdelen van de lijst, het kleine beeldje van Maria, en de onderschildering zijn voltooid. Alles past perfect, maar ik ben nog ver verwijderd van een voltooid werk. Toch ben ik nu al weer trots op wat ik heb bereikt. Nu kun je al goed zien hoe de monumentale lijst er uit gaat zien.